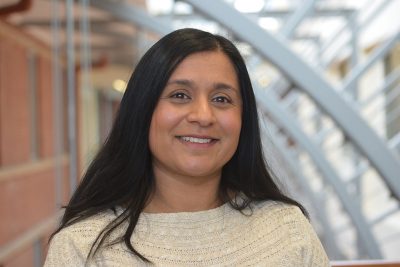 Niralee Patel-Lye
Niralee Patel-Lye is an assistant clinical professor in the Neag School of Education's Department of Curriculum and Instruction as well as associate director of teacher education and director of the Teacher Certification Program for College Graduates (TCPCG). 
Q: What do you believe makes the Neag School's programs stand out in training the next generation of teachers?
A: One thing that really stands out to me about the Neag School's programs in training the next generation of teachers is the focus on school-based placements throughout the entire program. The placements do not simply exist in isolation; they are connected to courses teacher candidates are taking each semester. The partnerships between the Neag School and the schools are strong, and I think that really helps our teacher candidates because they are able to explicitly see how what they are learning in class connects to what happens in schools on a daily basis. There's a clear link between theory and practice, and this is made clear in coursework and in the field consistently and throughout the entire program.
Q: What research foci do you bring to the Neag School's teacher education programs?
My research focuses on the role of schools as places in which issues of social capital, cultural capital, power, and identity influence systemic inequities for students and educators. The majority of my research centers on providing underrepresented students with equitable access to educational resources and supports in order to address the ever-widening opportunity gap in education.
Q: What is your favorite book?
A: Other People's Children by Lisa Delpit.
Q: What is something the Neag School community might not know about you?
I am a first-generation American and a first-generation college student. Before pursuing a teaching degree, I worked as an assistant financial analyst after I graduated from the University at Albany.