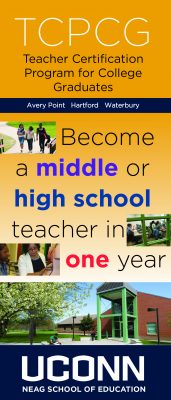 Downtown Hartford
A Tradition of Excellence in Teacher Education
The Teacher Certification program for College Graduates is a rigorous cohort program that has been preparing secondary teachers for over a decade at the Greater Hartford Campus and starting in fall 2017, at the Downtown Hartford campus. Committed to urban education, TCPCG Downtown Hartford works with the Capital Region's diverse schools as well as districts throughout the state. Our graduates have found middle school and high school teaching positions in districts throughout Connecticut and New England as well as throughout the nation and abroad. With a bachelor's degree related to core secondary academic disciplines, students can earn an MA in Curriculum and Instruction or Educational Psychology (special education students) and be qualified to teach grades 7–12 in a variety of certification areas:
Science Education
World Languages Education
An Accelerated Model
The eleven month program begins every summer when students take foundational coursework. Classes in learning theories, general and subject specific teaching methods, and educational technology are accentuated by the first clinical experience, where students observe classrooms and work with high school students in their respective disciplines.
In the fall TCPCG students engage in their semester long student teaching experience. Working closely with their cooperating teacher, university supervisor, and seminar leader, student teachers eventually assume the roles and responsibilities of their cooperating teacher.
In the spring TCPCG students take advanced graduate coursework. They complete an internship, typically where they completed student teaching, and engage in an inquiry project concerning aspects of teaching and learning within their discipline.
The Hartford Campus is located in the state capitol, Hartford. Cultural opportunities abound, from the Wadsworth Athenaeum, Connecticut Science Center, to the Charter Oak Cultural Center, the Bushnell Theatre, and the Hartford Stage. Hartford offers opportunities for contact with institutions dedicated to learning within the humanities, sciences, and arts.