Vision Statement for the Neag School Teacher Education Programs
Our teachers transform their classrooms and their schools to promote a more just and equitable society. They disrupt historic patterns of inequity and help schools become inclusive, engaging, and inspiring spaces where all learners flourish.
Mission Statement for the Neag School Teacher Education Programs
We prepare teachers to engage all students in deeper learning. Our teachers learn to enact multimodal, research-based instructional practices to promote equity and excellence in their classrooms. Graduates develop trusting relationships with students, families, colleagues, and local partners to co-construct collaborative classrooms and school communities.
How to Become a Teacher
The Neag School of Education offers two programs leading to teacher certification.
The Integrated Bachelor's/Master's Teacher Preparation Program is a highly competitive five-year comprehensive teacher preparation program that integrates coursework and school-based clinic experiences facilitated by university and K-12 faculty in the preparation of pre-service teachers.
The Teacher Certification Program for College Graduates (TCPCG), offered at the Hartford, Waterbury, and Avery Point campuses, builds on the existing strengths of the IB/M Teacher Preparation Program and offers a path for college graduates seeking to gain teacher certification.
The Leadership, Equity, and Diversity (LEAD) Program in the Neag School of Education links two years of prerequisite and general education coursework with three years of professional education, resulting in two degrees:  a bachelor's degree in education and a master's degree in curriculum and instruction or educational psychology.
Application Deadlines
Quick Links
Featured Faculty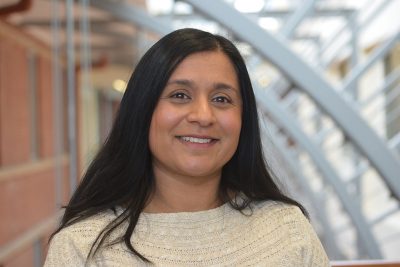 Meet Niralee Patel-Lye, director of the Teacher Certification Program for College Graduates.